Con "lingue contestate" si intendono quelle parlate minoritarie che – pur essendo più o meno lontane dalla lingua ufficiale di uno Stato – vengono considerate suoi "dialetti" da chi le parla, dalle autorità centrali e persino da alcuni studiosi. Rispetto alle lingue minoritarie propriamente dette sono doppiamente sfortunate, in quanto quelle, per quanto avversate, hanno almeno la soddisfazione di vedersi attribuire una dignità (talvolta, purtroppo, di pura facciata). In certi casi, come per esempio nella Repubblica Italiana, la definizione di lingua minoritaria per alcune parlate, e il conseguente declassamento di altre, è apparentemente casuale; o, scavando più a fondo, legata a considerazioni politiche di stampo centralistico.
A Torino in via Verdi 8, il 5 e 6 maggio, si terrà appunto un convegno dell'organizzazione Contested Languages in the Old Word, il CLOW 2, organizzato da Mauro Tosco dell'Università di Torino e Marco Tamburelli dell'università britannica di Bangor.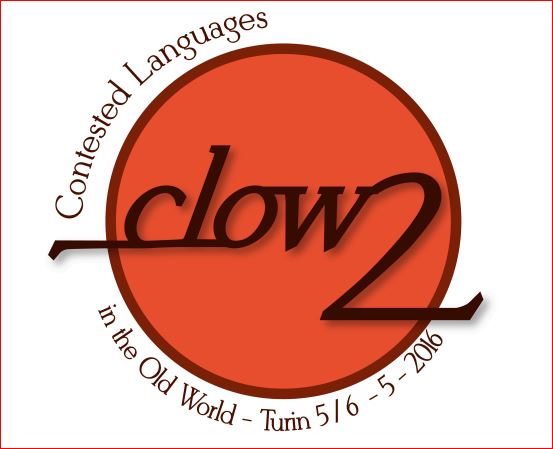 Ecco il programma ufficiale:
5 maggio 2016
9:30 – 10:00 Mauro Tosco (University of Turin): Welcome to Turin and Welcome to Language Contestedness
10:00 – 10:30 Marco Tamburelli (Bangor University): Contested languages and the denial of linguistic rights in the XXI century
11:00 – 11:30 Henryk Duda (John Paul II Catholic University, Lublin): The Linguistic Status of the Lemkos Speech
11:30 – 12:00 Lissander Brasca (Bangor University): Issues in the classification of Gallo-(Italic) within the Romance family
12:00 – 12:30 Jone Goirigolzarri Garaizar (University of Deusto): Between consensus and divergence: the revitalization process of Basque language in the political arena of the Basque Autonomous Community
12:30 – 13:00 Federico Gobbo (University of Amsterdam, University of Turin and University of Milan-Bicocca): The language ideology of Esperanto: from the world language problem to balanced multilingualism
14:30 – 15:00 Eda Derhemi (University of Illinois at Urbana-Champaign): An inversely proportional relationship: language contestation and language attitudes in the case of  Arbëresh and Arvanitika
15.00 – 15:30 Nicole Dołowy-Rybińska (Polish Academy of  Sciences) and Claudia Soria (CNR-ILC, Pisa): Surveying the ethnolinguistic vitality of two regional collateral languages: the case of Kashubian and Piedmontese
15:30 – 16:00 Aurélie Joubert (University of Leicester): The perceived usefulness of language rights in recent French political debates
16:30 – 17:00 Nicola Vaiarello (University of Barcelona): Disclosing and making sense of the public discourse: Representations of Italian regional languages in the Italian national press
17:00 – 17:30 Emanuele Miola (University of Milan Bicocca): Contested orthographies: a closer look to spontaneous writings in Piedmontese
17:30 – 18:00 Paweł Rutkowski (Warsaw University): Polish Sign Language (PJM) as a Contested Language: Why Corpus Documentation is Needed
18:00 – 18:30 Eugenio Goria (University of Pavia): Issues about bilingualism in Gibraltar: English, Spanish and Llanito.
6 maggio 2016
9:30 – 10:00  Marco Trizzino (Pontificium Institutum Altioris Latinitatis, Salesian Pontifical University, Rome): Lingua siciliana. Language policy and planning of a Mediterranean insular idiom
10:00 – 10:30 Simone Mattiola (University of Pavia and University of  Bergamo): Two  corpus  plannings  and  one  language:  the  case  of Ladin
11:00 – 11:30  Paolo Coluzzi (University of Malaya, Kuala Lumpur), Lissander Brasca (Bangor University) and Simona Scuri (CSPL, Milan): Language planning for the Lombard language Guest Lecture
11:30 – 12:30 Máiréad Nic Craith (Heriot-Watt University, Edinburgh): Routes towards Recognition: Challenges and Opportunities
14:00 – 14:30 Jone Goirigolzarri Garaizar (University of Deusto): The revitalization of the Basque language: a younger generation of new Basque speakers
14:30 – 15:00 Christopher Moseley (University College, London): Citizenship and Nationality: the situation of the users of revived Livonian in Latvia
15:00 – 15:30 Silvio Sandrone (Triel-sur-Seine): Managing an expatriate family's language mix: A personal story and some general considerations
15:30 – 16:00 Federico Gobbo (University of Amsterdam, University of Turin and University of Milan-Bicocca) and Laura Vardeu (University of Turin): Which Sardinian for education? A CLIL-based laboratory in a middle school in Orosei
16:30 – 17:00 Carlo Zoli (Smallcodes, Florence): The Smallcodes Lexicography platform for minority & contested languages: a tree-model hyerarchical approach
17:00 – 17:30 Andrea F. D. Di Stefano and Vincenzo Lerro (Biella): Publishing a grammar with literature anthology of a variety of Piedmontese: An experience of crowd funding
17:30 18:00 Andrea Musumeci (London): Bringing Sicilian folk-tales back to life: A proposal for an interdisciplinary, communitybased language strengthening project
18:00 18:30 Mauro Tosco (University of Turin): Instead of language rights: bottom-up and topdown approaches to language contestedness.